The Dye-Swilley 1957 Corvette Race Car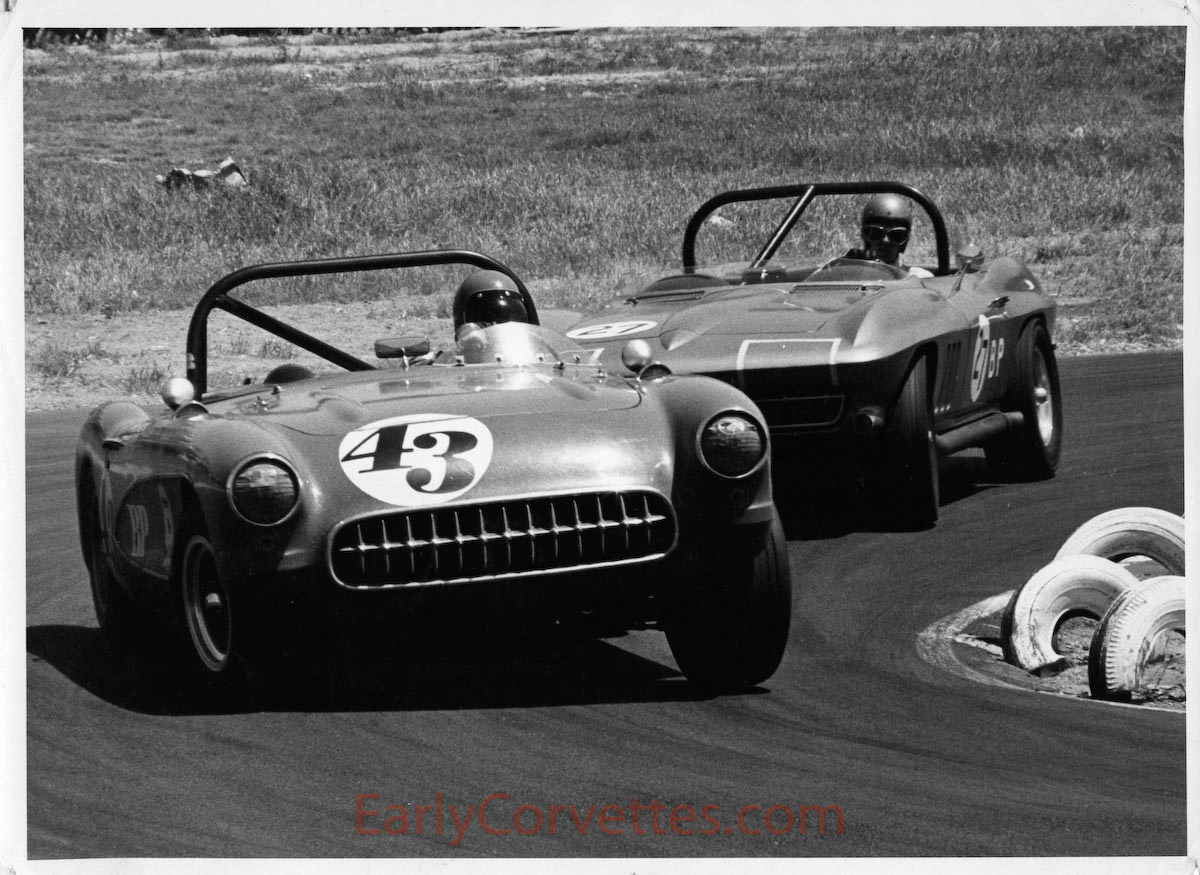 Bob Dye Battling Rich Sloma at Laguna Seca Circa 1967
The Dye-Swilley Race Car

The Dye-Swilley race car has a fascinating history, different than any other early Corvette. The Dye-Swilley race car was just another car on the highways while Corvettes dominated sports car racing from 1957 -1962. Bob Dye converted the car into a race car in 1966, and then raced the car competitively with some success against more powerful cars from 1967 to 1972. Bob even finished in 6th place in the 1972 Final Standings - National Points - SCCA Northern Pacific Division - B Production. The car was in pretty rough shape when Wilson Swilley purchased the car from Bob in 1975, however. Wilson restored the car twice - first as a street vehicle in racing trim and then as a pure race car that reflected Bob Dye's original setup in very close detail. Wilson's efforts with the car were made famous by various books and magazines. Bob Dye's race car became famous through Wilson Swilley's efforts.
Wilson Swilley encountered some financial difficulties, and had to sell his beloved race car. Three people have owned the Dye-Swilley race car since - Frank Buck, Chip Miller and Ken Epsman. The Dye-Swilley race car continues to race on the vintage race circuit. And the car continues to fare well - the car won the 2002 Monterey Historics with Ken Epsman at the helm.
The Dye-Swilley race car has a great story to tell. Bob Dye saved a fair amount of the pictures and race literature from his racing days, and those materials have been passed down from owner to owner, starting with Wilson Swilley. This website reflects much of the history of the car.
With the help of Vettefinder Jim Gessner, I recently purchased the Dye-Swilley Race Car. I hope to keep racing the car in vintage races, and add to the story just a little bit. But the real story is about Bob Dye and Wilson Swilley.



I hope to keep expanding this website with relevant information and photos. Please contact me if you have racing photos or literature that might contain more info about Bob Dye.






My Corvette Websites