After Wilson acquired Bob Dye's race car in 1975, Wilson started to restore the race car. At that time, however, the vintage racing circuit was barely alive (the first small vintage race was held in Monterey in 1974). Thus, restoring the car to full race trim did not really make sense.
Wilson was active in the National Corvette Restorer's Society, and would eventually become the main technical advisor for 56-57 Corvettes. Wilson and Noland Adams were also buddies, as they lived close to each other and shared a passion for early Corvettes.
Wilson decided to restore the Dye race car in a unique way, holding true to many NCRS standards while also keeping the car true to its racing heritage. Keep in mind that the car started its life with a 1x4 carb setup and probably a 3-speed transmission. And that Bob Dye had converted the car to an FI setup, 4 speed car with early 1960s Corvette racing brakes. Bob has also added a dash mounted Sun tach.
Chevrolet offered a number of options to serious racers who purchased a new 1957 Corvette - the buyer could get a fuel injected setup, an "airbox" that provided cold air to the FI unit, a high-rev tach mounted on the steering column. racing brakes, and duct-work designed to keep the racing brakes cool.
Wilson restored the car with ALL of the 1957 Corvette racing options - FI setup, airbox, high-rev tach, racing brakes and duct work. (A 1989 article in Vette Magazine incorrectly implies that Dye raced the car with an airbox and racing brake duct-work).
Bob Dye's race car was in pretty sad shape when Wilson acquired the car. The rear end of Bob's car was highly modified, and would be hard to put back into original form. Thus, Wilson mated the front of Dye's car with the back of another 57 Corvette that Wilson owned.
The end result was a beautiful car - a car true to its racing heritage and full of very rare 1957 Corvette optional parts.
Here are a some more pics of the car after Wilson first restoration effort - circa 1983. The first two photographs are from the DocRebuild.com website, and are used with the written permission of Dr. Rebuild.
Please see the DocRebuild.com website for additional higher quality photos.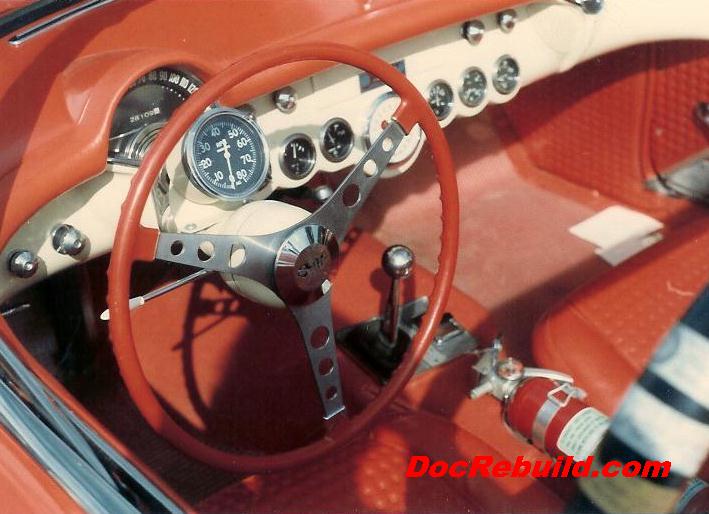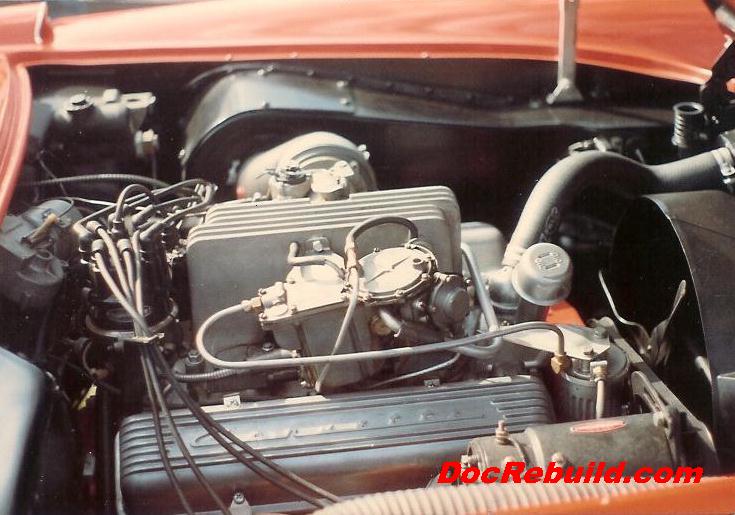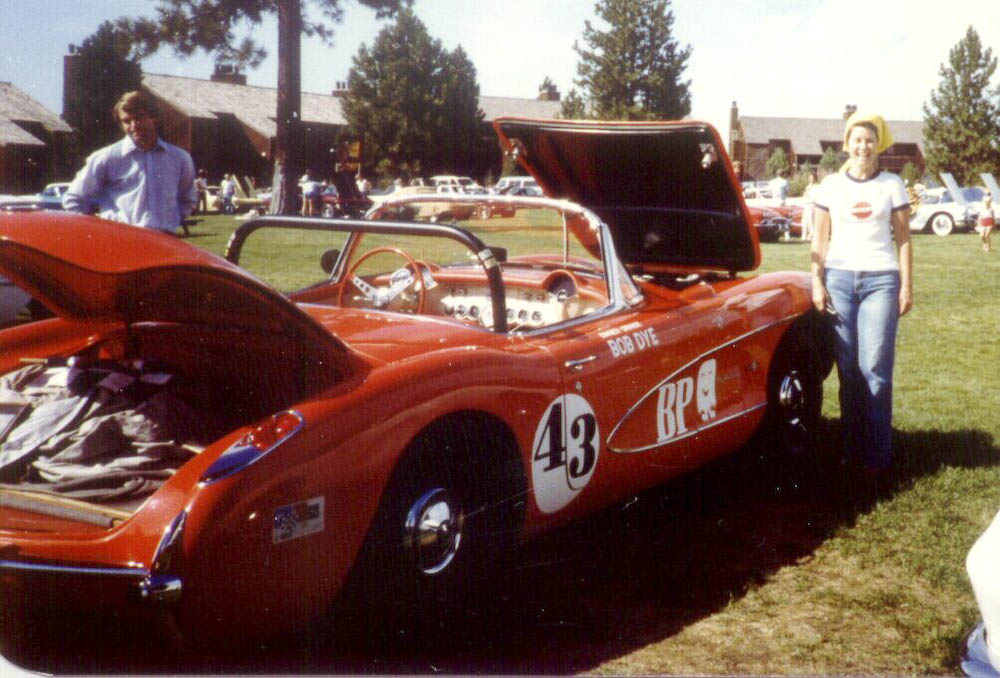 The car certainly turned heads - a race car that could be driven on the street. And Wilson started having a lot of fun with the car - he was even ticketed for speeding in the SF Bay Area.
Publishers of books and magazines became interested in the story. The NCRS featured Wilson's car on the cover of the Corvette Restorer Magazine in the Spring of 1983 (with an accompanying article). And Michael Antonick featured the car in a lengthy story in his book series titled: Corvette - The Sensuous American (1983-1).
To top it off, Wilson reunited Bob Dye with his car at an event at Sears Point in 1983. Reuniting Bob with his car was quite an event - Bob Bondurant even showed up to get a look at and sit in Bob Dye's old race car. Here are the details and some photos and video of the 1983 Sears Point event:


Wilson did not keep the car in the form described and pictured above for long, however. Wilson was bitten by the racing bug in the mid-1980s. Looking around his garage, Wilson knew that he already had a perfect race car, although currently wearing some sheep's clothing. Thus, in 1986, Wilson set out to restore the Bob Dye race car a second time.