Bob Dye Reunited With His 1957 Corvette Race Car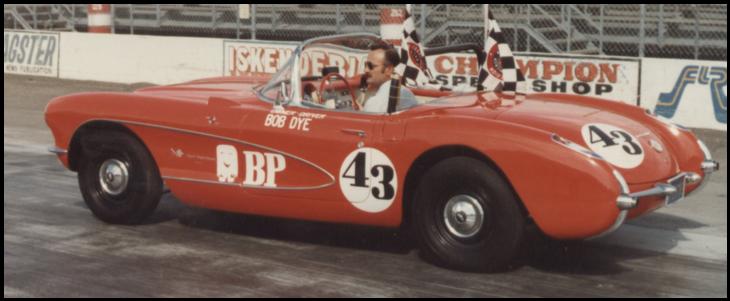 Bob Dye Driving His Restored Corvette at Sears Point in 1983




With help from Paul Reinhardt, Wilson Swilley engineered a reunion for Bob Dye and his old car at Sears Point in 1983. Three story lines emerged from the reunion - Bob Dye sees his restored car for the first time in 8 years, Mike Antonick takes pictures and interviews Bob and Wilson for a story in the Corvette - The Sensuous American (1983-1), and Bob Bondurant drops by to check out Bob Dye's old race car.
Bob Dye Sees His Old Car
Bob Dye moved on to airplanes after he stopped racing. Without giving Bob a lot of details, Wilson had Bob fly into Sears Point for the reunion with his old race car. Bob did not know that Wilson had arranged to have access to the raceway, and that Michael Antonick and Bob Bondurant would be attending the reunion.
Wilson Swilley videotaped the event, so there are both pictures and videos of the reunion. Bob was amazed when he saw his old car again, commenting that it looked better in 1983 than when bob owned the car.
| | |
| --- | --- |
| | |
| Wilson and Bob Dye | Michael Antonick Interview Bob Dye |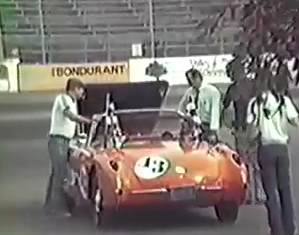 Bob of course took his old race car for a drive (little did Bob know that he would actually race the car again, in 1987).







Mike Antonick Writes The Car's Story
In the late 1970s and early 1980s, Mike Antonick published a series of books that featured stories about special Corvettes. (The books have never been republished, and are expensive to buy.) Michael became interested in Wilson 's 1957 Corvette, and wanted to do a story about the car. The Bob Dye - Sears Point reunion in 1983 provided the perfect setting. Thus. Mike joined Wilson at Sears Point, took a bunch of pictures, and interviewed Wilson and Bob Dye at the Sears Point reunion.




| | |
| --- | --- |
| | |
| Wilson Points Out FI items | Wilson Discussing Bob's Racing Brakes |
| Antonick Video (Mac or Windows) | Racing Brake Video (Mac or Windows) |
Mike
Antonick's interview with Bob Dye revealed some interesting facts about the car - that Bob ran a 327 in the car when he first started racing, that a too lean setting on the FI setup caused his pistons to melt, and that Bob had run about 50 races, for example.
Mike Antonick took a fair number of professional pictures that day, and he is very graciously going thru his old files and sending me what he finds. The photos featured below were taken by Mike Antonick (usage coutesy of Michael Bruce Associates, Inc. Copywright 2007):


| | | | | |
| --- | --- | --- | --- | --- |
| | | | | |
| Nice pic of the car | Pic of the cery rare AC Tach and bracket | Nice engine shot, with airbox | Wilson even reproduced the race stickers | Nice interior shot |





Bob Bondurant Checks Out The Car


Bob Bondurant's racing school was based at Sears Point in 1983. Bob joined in on the festivities, checking out the car and even getting a feel for what it was like behind the wheel of a 57 Corvette (with a full length steering column).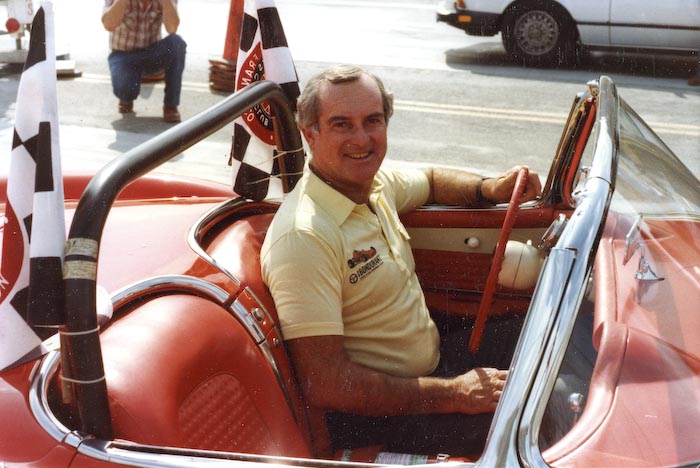 As noted above, Wilson restored the car twice - once as a blend tribute/NCRS car and then as a restored race car as Bob has it setup in the late 1960s. The car became famous after its first restoration, appearing in books, on the cover of magazines, etc. And then the car became a serious race car after the second restoration. Fortunately, a fair amount of information exists regarding both of Wilson's restorations:




| | |
| --- | --- |
| | |
| Swilley and Bondurant Chat About The Car | Bob Checking Out The Car |


Events like the Sears Point Reunion, and being a featured story in Michael Antonick's book helped the fame of the car spread. Wilson's talent for restoring early Corvettes and media savvy paid off. But Wilson did not rest on his laurels long. A few years after the Sears Point, Wilson would take the Bob Dye Race Car thru Restoration #2.