YES A59
Jerry Bramlett Saved Me!
Click here to send me an email.
I have a 1959 low hp car with powerglide. On ebay, I purchased a unit advertised as a 4900 unit - which would be appropriate for a low hp 59. The Rochester label identifies it as a 4900 unit as well. I purchased the correct 915 distributor too.

I thought it looked great when I bought it on ebay. Wrong. It's a Frankenstein Unit.
I sent the unit to Jerry Bramlett, who gave me the bad news. The FI unit probably left GM as a 7017300 unit. The air meter (#7014922) has a faintly stamped "7017301" on it. The fuel meter (#7014781) has a "252" stamped on it. A prior owner added a Cranking System Valve. There were a lot of things wrong with it, both externally and internally. I was really disappointed.
We started off down the path of fixing the unit. Out of the blue, Jerry runs into somebody who is willing to sell a complete, unrestored 7017200 unit. After some horse trading, I basically end up with the 7200 unit. The 7200 unit is correct for a low hp 1959 car.
The 7200 unit prior to restoration:

The 7200 unit after restoration:

Jerry calibrates the unit the old fashion way - putting it on a car and using a manometer. Jerry also rebuilt my distributor - which was another disaster waiting to happen. After getting the FI unit dialed in, he makes a video of the unit running properly and encloses the video with the FI unit.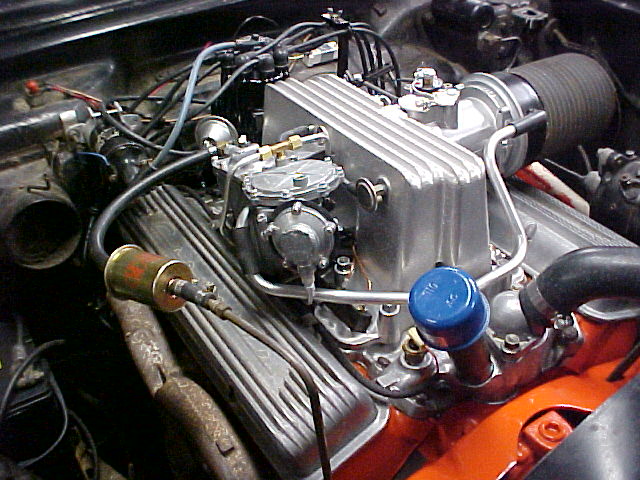 (Click on the pic to see part of the video - 22mb file)
Jerry also commits to helping you get the up and running on your car. My mechanic called Jerry a number of times during the installation - they worked as a team to get the FI unit hooked up and running right.

Installed on My Car

Conclusion
Jerry did an incredible job for me. I have a correct unit for my car (7200 unit). The FI unit runs flawlessly and looks great. I am extremely pleased with the result. And the price was very fair.

Jerry's shop is in Alabama. You can reach him at:(251) 478-4003.
Thanks Jerry!