Rhoads Chevrolet - First Modified Corvettes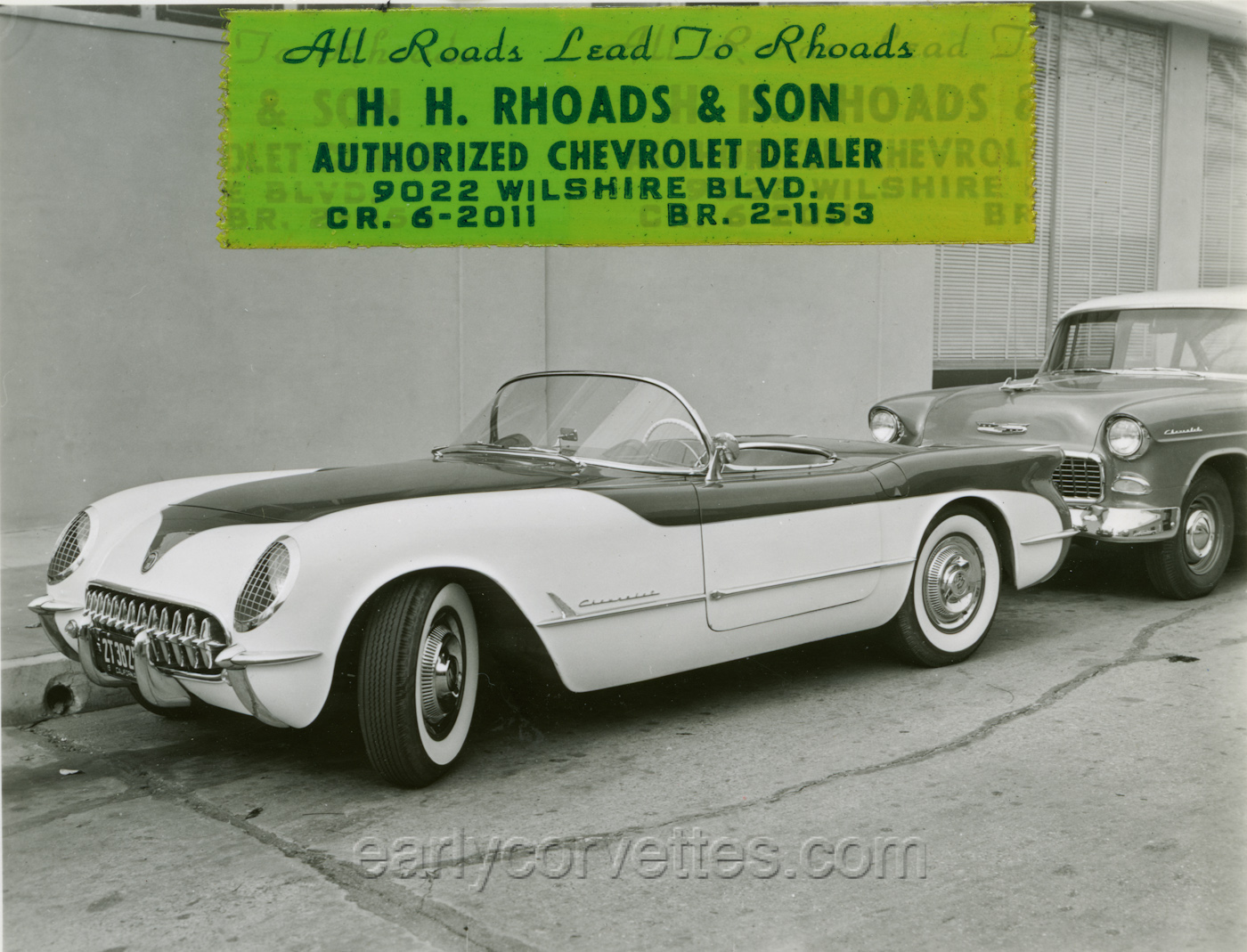 Probably a 1954 Corvette Modified by George Barris




Rhoads Chevrolet


Hank Rhoads owned and operated a Chevy dealership in Beverly Hills , California, in the 1950s (H. H. Rhoads & Sons located at 9022 Wilshire Blvd).   Hank apparently saw great potential with the 1953 – 1954 Corvettes, but the color options (white only) and the 235 inline 6 mated to a powerglide tranny fell short of the mark.   So Hank became one of the first Corvette owners/dealers to upgrade the 53 – 54 Corvettes with Barris Kustom paint jobs and V8s.   While early Corvette fans know that McCulloch Motors developed a supercharger for the 235 inline 6, few know that Hank Rhoads souped up a number of 53 – 54 Corvettes prior to the introduction of the V8 in 1955. 
 The October 1954 Motor Trend magazine contains an article about an early Corvette (53 or early 54) that Rhoads souped up by replacing the 235 engine and PG drivetrain with a Cadillac V8 and Hydramatic tranny.   I read that story a few years ago – a neat story where Walt Woron spends a few days putting the Chevillac Corvette thru its paces.  That story came back to me when I spotted a small collection of photos on ebay in 2010.  The photos show 53 – 54 Corvettes that are customized in a number of ways – different engines, modified interiors, and cool paint jobs.  When you read the Motor Trend article and look at the pictures closely, the Hank Rhoads story just jumps out at you.  Hank was perhaps the first guy to operate a business modifying the very early Corvettes. 
Hank's customized 53 – 54 Corvettes fall into 3 broad categories:  The Chevillac Corvette (Cadillac drivetrain), the Dynaflow Corvette (Buick drivetrain), and George Barris Customizations.